One of our most common issues we run across is wireless connectivity problems. These may be reports of wireless speed being too slow, connections dropping, short ranges, low quality audio/video, etc.. There are many reasons why your wifi connection is poor and here are a few of the top ones:
Too many devices on the network using too much bandwidth
Does your office (or home) have desktops, laptops, tablets, smartphones, smart watches, cameras, personal assistance devices (e.g. Alexa), TV boxes, audio steaming systems, or any other Internet of Things (IoT) items connected to the wireless network? Now are any of them streaming 4K video from Netflix, running video games online, or listening to music? Each device connected to your network will take a slice of the bandwidth pie. If you are seeing performance issues try turning off the bandwidth eaters to see if there is any improvement. If so, time to purchase more speed from your Internet provider or manage your usage better.
Too many networks
Is your office in the city or a commercial park? Do you live in an apartment? You may be experiencing too many overlapping wireless networks.  If your network channel overlaps with other wireless networks then you may see slowness, network drops, and other issues randomly throughout the day. Go to the app store and install a wifi analyzer and see what your wireless environment looks like. If your network overlaps others log into your router or access point and move to a less busy channel and, if you have it available, use the 5GHz range instead of the 2.4GHz. Below is an example of  a congested wireless environment.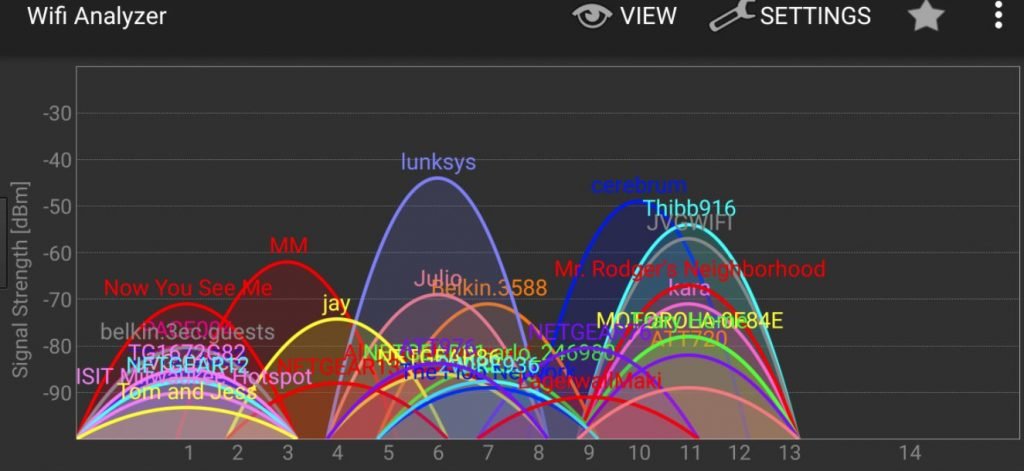 Physical Environment
Your physical environment can make or break your wireless signal strength. What is between your wireless access point (WAP) and your laptop makes all the difference in the world. Some common items that cause problems are:
Microwaves and older portable phones (not cell phones)
WAP placed behind or near a brick wall, chimney, lighting fixtures, metal framed wall, pipes, air ducts, solid wood/metal doors
WAP placed near electrical boxes
WAP placed in basement, false ceiling, or in attic
WAP antennas not pointed / placed in correct manner
Here are some visual examples of poor placement of WAPs.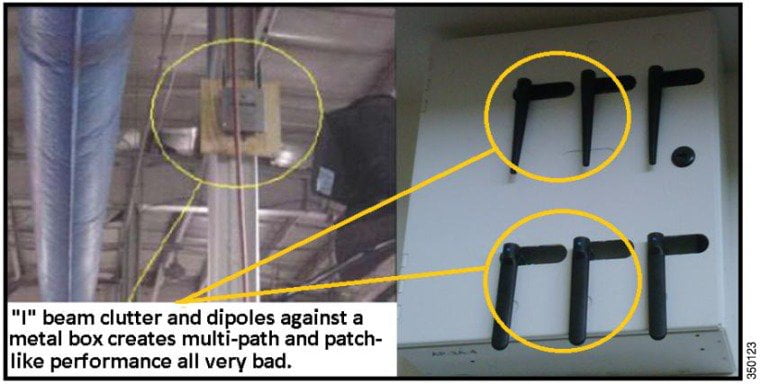 To make your wireless signal better move your access point to better location (line of sight with the devices you are using) and make sure any external antennas are configured correctly.
Old Technology
When was the last time you updated your Wireless Access Points? When was the last time your Internet provider replaced your wireless router? If is has been a while you may be using outdated wireless technology. If your access point says 802.11 (n , g, or b) and not 802.11ac then you have an older access point. If you are reading this article in 2018 then 802.11ax may be rolling out as the latest and greatest.
You also want to make sure that if you are purchasing a new WAP that it has multiple antennas (external or internal). This may be shown as 2×2, 2:2, 3×3, 3:3 (the number is the amount of antennas). The more antennas the more pathways for your wireless devices to communicate as long as your devices supports it. Many laptops are 2×2 but phones may only be 1×1.
-Tim