As we have mentioned before Microsoft's end of life for Windows XP is approaching quickly (April 2014). After that time no more support or security updates will be available for the 12 year old operating system. Hackers are not wasting anytime though.
Here is the Reason to Migrate *Now*
The below chart shows the infection rate of different Windows operating systems. It shows that the infection rate of Windows XP is double that of Windows 7 and six times the rate of Windows 8. If your PCs are running Windows XP you're asking for trouble. In business, trouble equals loss of income and/or productivity. After April 2014 it may also mean loss of industry security compliance standings (e.g., MA 201 CMR 17) which means possible legal issues if something does happen.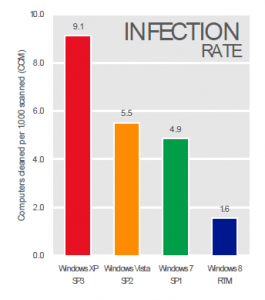 What should my business be doing?
If you have not already started the migration process you (or your IT department) need to start taking the following steps:
Contact vendors to make sure any business critical applications that are on XP systems now are compatible with Windows 7. Upgrading may be necessary. Don't forget to test software compatibility before rolling out new systems to everyone.
Determine how many new systems you will need to purchase (you cannot upgrade from XP to anything. Systems running XP are generally at their end of life anyway). You should budget around $550 per new PC (no monitor) to estimate upgrade costs.
Make sure you have access to installation media, download locations, and licenses so you can install your software on any new system.
Other things to consider
If you will be replacing a significant portion of your hardware you may want to consider looking at other aspects of your infrastructure
 

The Cloud

– Is now a good time to move to the cloud (e.g., backups, email, antivirus, etc.). It may make fiscal sense to do this instead of having to purchase new software licenses. Microsoft Office365 has been excellent for hosted email. Symantec Endpoint Protection SBE 2013 is equally good with anti-malware.

Virtualize

– Instead of new PCs maybe virtual workstations should be considered if you have 20+ computers and/or a large remote employee base.

Outsource IT

– We might just be a *little* biased on this one but if your IT support consists just of a desktop support person they may not have the skills or manpower to implement new technologies or large upgrades. Outside expertise may cost less then possible downtime.
Like anything else planning is key. If you would like help or just need some free advice please give us a call or shoot us an email.